a'dam noord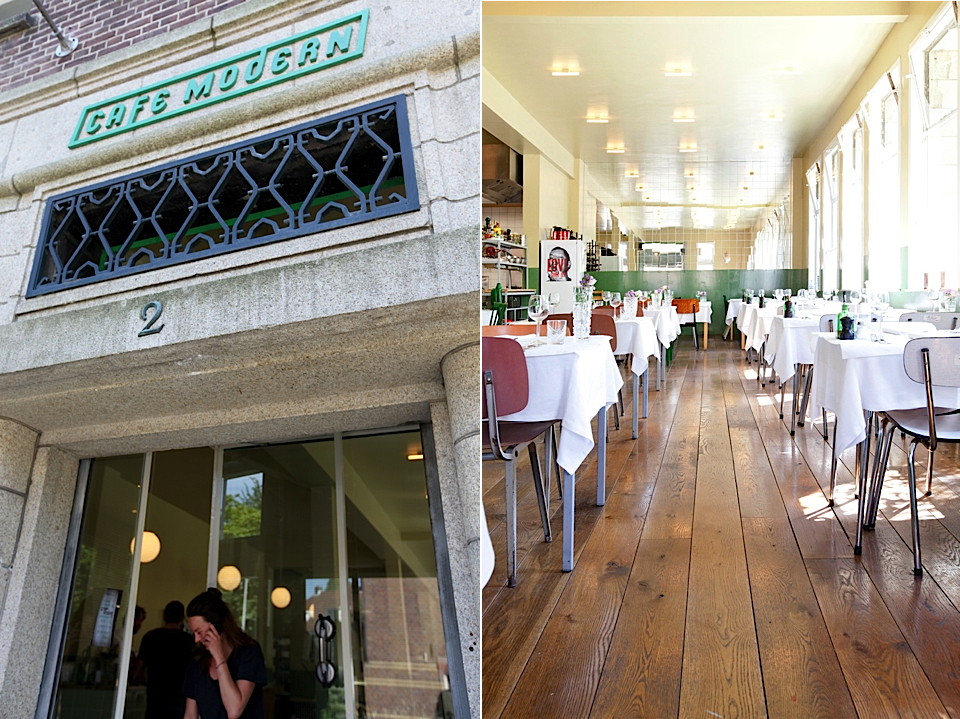 One of the best kept secrets of Amsterdam Noord is café Modern, which is actually not a café but a restaurant with only a few guest rooms (from the people behind hotel de Goudfazant, which actually isn't a hotel either). This is the place where studio Aandacht likes to get surprised because there's only one menu with 5 or 6 courses prepared with the seasonal products that the talented chef's choose for the day.

In a former bank building you feel the vibe of hip Berlin and the vintage no-nonsense look of style Meister Niels Wouters; the poldersofa by Hella Jongerius accompanied by a mini photo gallery by Annemarijn Bax seamlessly flows into the restaurant where making a reservation is the only necessary inconvenience, giving you the rest of the evening to sit back and enjoy.

Simple dishes with unexpected culinary combinations like this carpaccio of coquille St. Jacques with edible violets; to beautiful to eat…A peak in the open kitchen, on the right mussel and lobster soup with matching beer. During the daytime the restaurant is closed but also not closed because Jessica and Lieselotte are open for lunch between 12 and 14 o'clock and on sundays between 10.30 and 16 o'clock for a special brunch menu where tout Amsterdam takes a seat. To make the confusion even bigger the name of the restaurant isn't café Modern but Jacques Jour.

On the top floors grows the mini-hotel Sweet Dreamz… The rooms are called after the first (celeb) guests who stayed here;  like Belgian cult writer Herman Brusselmans and his ex girlfriend Tania. the atmosphere in the rooms is as if the residents just went out to the city centre with the ferry because that is a 15 minute walk from Café Modern. Special attention for Flemish art, literature and cycling not only inside but also outside the room because you can take your bike to town. Again founding father Niels Wouters effortlessly combines clay furniture from Maarten Baas with a vintage carpet from the second hand store.
Icing on the cake is the bathroom, obviously with a TV and above the bath tub a lamp from designer Pepe Heykoop's Tiny miracle collection. The second room was given the names of design couple  Kiki van Eijk and Joost van Bleiswijk. Important detail is that the famous guests left something behind in the rooms, so you are literary spotting design. You get the rooms multi eclecticism for free, just like the bicycle. Found it…! Bunny meets chicken by photographer René Mesman; rudimentary showering but with fashionable copper piping.
Tatjana Quax and Ben Lambers
Studio Aandacht is stylingdirector Tatjana Quax, artdirector Ben Lambers  and the people they surrounded themselves with since they started their studio for 'commercial culture' back in 2001. Both national and internationally reknowned museums, publishers, magazines, brands, designers and manufacturers choose to hire this creative couple to do their creative work.
Studio Aandacht is sharing with Trend tablet's community their latest travel and « coup de foudre »