the medicine called fun #DDW2013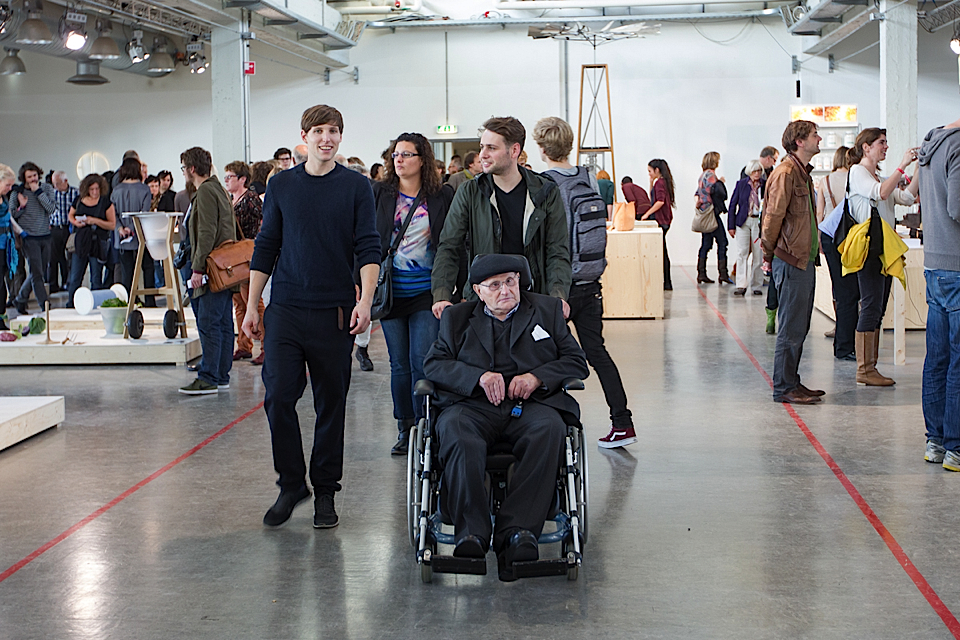 Dutch Design Week 2013, graduate exhibition design academy, Thursday the 24th of October somewhere around noon.
The jolly voice of a bingo caller echoes number after number through the spatial academy hall. A significant group of elderly people is lined up in their wheel chairs facing a cheerful installation that resembles an Olympic podium. Iconic Dutch Design objects are displayed as prizes for the bronze-, silver-, and gold medallists and the atmosphere reminds me of a Sunday afternoon bingo in one of the many care houses in the Netherlands. Only this time something differs from the stigmatizing ideas around the game of Bingo; the new rules of the game are socially uniting and a new design of the in coherent game components is upgrading the value and the appearance of the good old Bingo.
"Within the landscape of graduation projects, of which many address social topics but still put the designed objects autonomously in the spotlight, I insisted on a live demonstration in which a group of elderly bingo players from a local care house played with our new designed game. As if it were a performance, the elderly paraded into the academy, through the show, to establish themselves within the exhibition" says Jules van den Langenberg.
As a curatorial designer Jules initiates-, curates- and exhibits projects in which applied art and design are used as a medium to cultivate culture. His transparent inexhaustible inspiration source is clear; humans and their skills.
For his debut exhibition Jules demonstrates his first curated project called The Medicine Called Fun. Through an in debt investigation into the contemporary lifes of elderly people in elderly homes and care houses Jules got inspired to change the social architecture of communal living of elderly, that is under influence of hospitalization and commercialization.
The Medicine Called Fun is a refreshed version of the Bingo game that thousands of Dutch elderly house residents love to play and that can actually be used as a tool to fulfill the desire for social cohesion.

Based on oeuvre, design studio La Bolleur got invited by initiative taker Jules to design a concrete solution for his findings and observations. Based on their observations while actually playing bingo throughout The Netherlands, La Bolleur redesigned a bingo kit. The new game rules are reshaped with the aim to evoke interaction between people and unite them, the rules also provide conversation material for after the game. A bingo game was created that features a multi-functional piece of bingo furniture and additional game elements like a table flag that marks the amount of winners on a certain table; evoking collectivity.
Awarded with the Connectring from Design Academy Eindhoven and nominated for the Social Design Award of the Eindhoven municipality, Jules and La Bolleur hope to continue their adventure with a bingo performance with Italian elderly at the Salone Del Mobile 2014 and are currently searching for potential sponsors to spread the Medicine Called Fun.
Willem Schenk