nadia albertini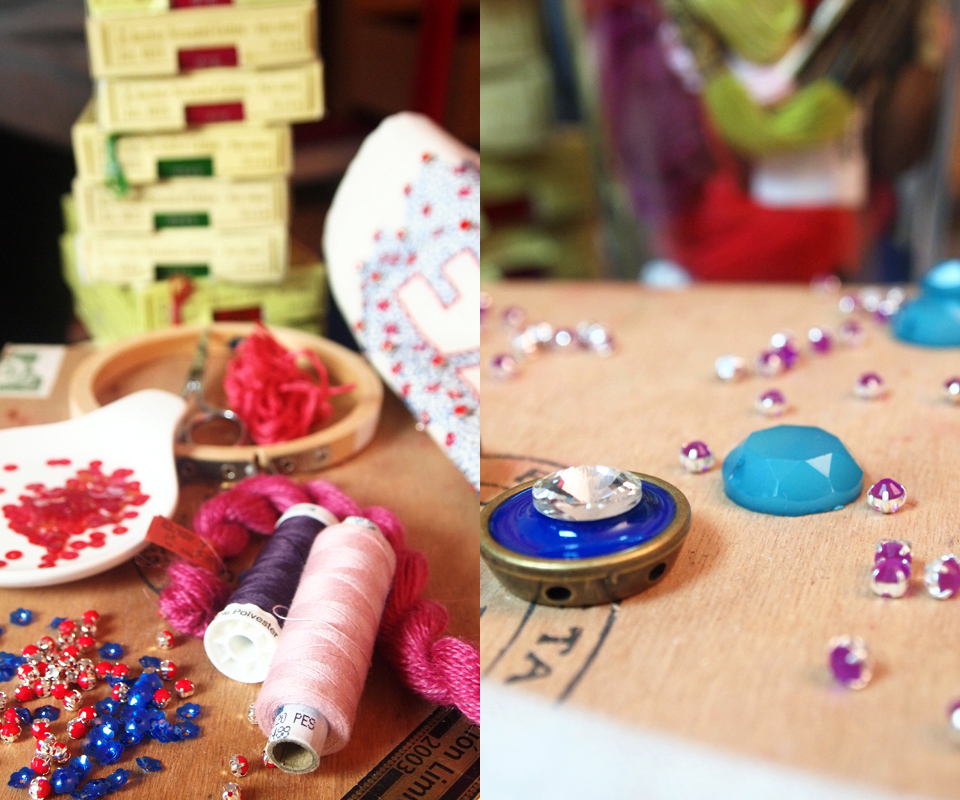 Nadia Albertini, born and raised in Mexico City, is an embroidery and textile designer based in Paris. Her interest in embroidery started when she was just eight years old, when her grandma taught her the basic stitches for the first time. "I remember seing her embroidering a floral cushion with the most amazing colors! "
She has been working in fashion for the past six years. She has collaborated with Chloé, Chanel, Balmain and Jason Wu among others, creating hand embroidery designs for their ready to wear and haute couture labels. She had the chance to meet and work with very talented and inspiring people, either in Paris, London, New York or Mumbai.
Her latest project "All over Sequins" is the brand she is just launching for all the DIY fans of embroidery.Trend Tablet caught up with Nadia for an interview.
What lead you to a career in textiles & fashion?
I was born in Mexico City in a family where art and design are very important. My parents had a book-binding atelier, so I always saw them making things with their hands. I think seeing my grandmother doing embroidery was also very inspiring, even if I wasn't aware of it at the time. As a kid, I could spend hours drawing, painting. I enjoyed silk painting too but I never thought about studying textiles or fashion. That world was very far from ours. It all really started when I was 15, when I participated in the International Swarovski Elements Accessories Design Competition. We were to use their materials to embellish a fashion accessory. I remember I could have all the stones and beads and rhinestones I wanted for my project. I fell in love with their shine. After graduating from high school I moved to Paris to study textiles and fashion at the Duperré School of Applied Arts. I didn't know what I wanted to do exactly but then, I had my first internship at Chloé. And they needed help in the embroidery department. So I helped with the making of samples, hand embroidery swatches, fabric manipulations. It was a mix of a lot of techniques, some of which I learned from my grandmother. We had the chance to work with different materials from the best suppliers.  After two months there, I knew I wanted to be an embroidery designer.
During the design process is there a suggestion of your multicultural background ?
There is, yes. My sister and I were always educated in both languages and both cultures, which gave us a very rich base for everything we do. I think being French/Mexican and having been raised in Mexico City surrounded by so much color and patterns trained my eye from a very young age. I remember wearing all sorts of embroidered and hand woven huipiles when I was a kid. We used to make trips to the countryside very often, especially to Oaxaca, to discover the most amazing places and crafts. I think we had a very free and inspiring childhood in Mexico, I don't think it would have been the same had we lived in Paris from a young age. Also, Mexican people do think outside the box. If we don't know how to make something, we try different things, we experiment, we explore possibilities, some of them quite surprising and unexpected. It is what my mom calls the "ingenio mexicano". It's a very instinctive, intuitive way of doing things and I hope to have a hint of that in my work.
You travel often to India, what has been the most significant experience while working there?
I love going to India. Every project and every team is different and I learn new things every day. Funny, when you know I don't speak Hindi and most of the people I work with don't speak English.
I have a fond memory about the first time I worked directly with the karigars (the embroidery workers). In France, only women do embroidery.  There, it's the opposite, only men do. I was trying to explain to them how to do a special technique but I could not find the words. So I took thread and needle, sat down in front of the frame and then… 60 people stopped working to look at me. It scared me a little bit, I thought they did not approve of that. But it wasn't that, they were just amused and curious.
Why did you decide to launch DIY embroidery kits?
One of the main reasons I've started this project is to make embroidery and fashion embellishment more accessible. Not everyone can afford to buy an haute couture gown but everyone can learn a few stitches and make their own embellishment at home. Also, people still have this idea of embroidery being an outdated and old-fashioned pastime. I want them to look at it in a new way, to bring a younger and more contemporary version of this amazing technique. Working with your hands and making things yourself is deeply rewarding and can become an almost therapeutic activity. Friends often tell me embroidery is too complicated or hard to learn. So I wanted to give them an easy, funny and refreshing way to do it. My students at the London College of Fashion always kept asking for more techniques, more tricks, more designs, so I decided to launch the All Over Sequins website. I have been working for the fashion and embroidery industries for the past seven years. Each house, each atelier and each of the artisans I have collaborated with taught me different styles and techniques. With All Over Sequins, I want give back for everything I've learnt, by sharing this knowledge with a broader audience.
Do you have others DIY kits in preparation or any other plan for the future? Yes, I'm working on a series of kits like cushions, bags, pouches and lampshades inspired by different themes such as nature or tiles ornaments. They will be available online in the next couple of months. The blog is becoming a collaborative space where we share not only techniques and tutorials but also inspirations from our trips or research around our points of interests: exhibits, textile art, DIY craft, books, printing, vintage furniture and architecture. Through this project, I want to explore the relationship between illustration, print and embroidery, using a wide range of media and a variety of materials like sequins, stones, beads. I really enjoy teaching so I'm planning to open some courses in my atelier in Paris for people who want to learn more and explore hand embroidery.
Where can we find "All over Sequins" DIY?
The kits are available online in our website and are also at 'le Bon Marché' department store in Paris.