issey miyake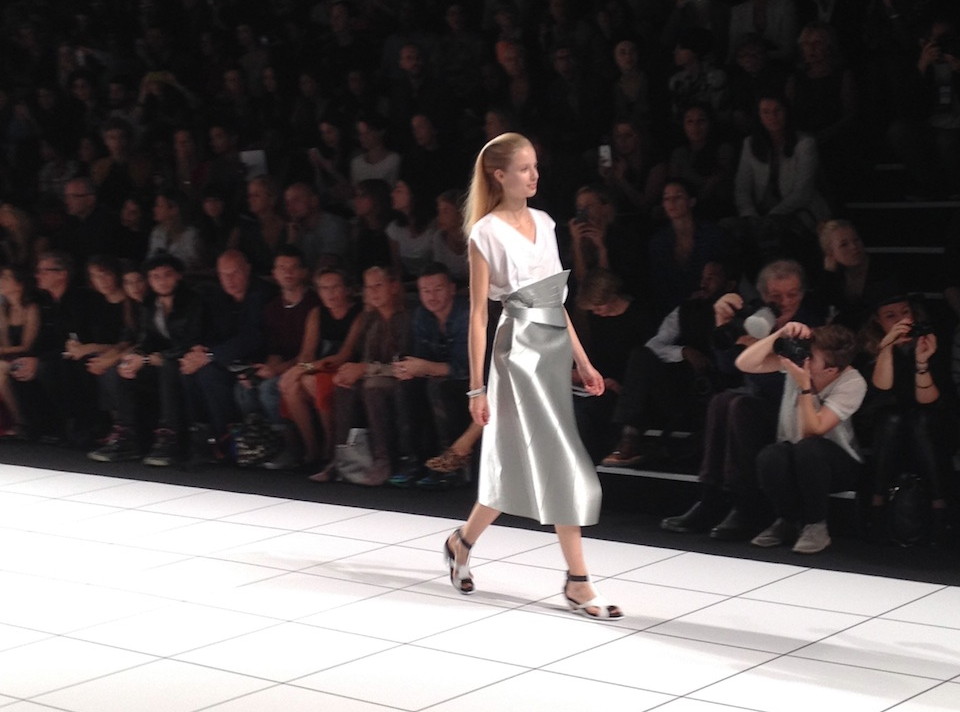 Issey Miyake's SS14 collection designed by Yoshiyuki Miyamae is a futuristic take on the modern woman. From sportswear influenced wedges over comfortable yet fashionable clothing made of hybrid textiles that boldly combine different materials and ever-evolving technologies.
With his special interest being illuminating light the show featured 3 different themes: Starlight, Moonlight and Sunlight. Starting off with his trademark silhouettes in white he mixes metallic textiles representing the sky at night. White, clean and like a dream. Followed by the Moonlight, seen through the grid knit series the silhouettes become darker blending into grays and beiges, demonstrating the glistering white moonlight. Open weave jackets and coats with a soft and distinctive silhouette, made by spiral cutting, uses a hybrid soft technique of innovative yarns on old style knitting machines.  
The last but not least Sunlight collection pops with red and different blue gradations, based on the blue skies and deep red sunsets on the horizon. The 3D thick mesh series created a light and shade with the movement when worn on the body. For the grand finale, all the different elements of the sky blended and created a night sky and a dream.
During the show live music was played by Ei Wada, who is part of the experimental performance project Braun Tube Jazz Band. The music is created using cathode-ray tube television screens as musical instruments.
Keeping up with his reputation he delivered yet again an innovative unforgettable show.
Chloé Sos