the smallest fashion school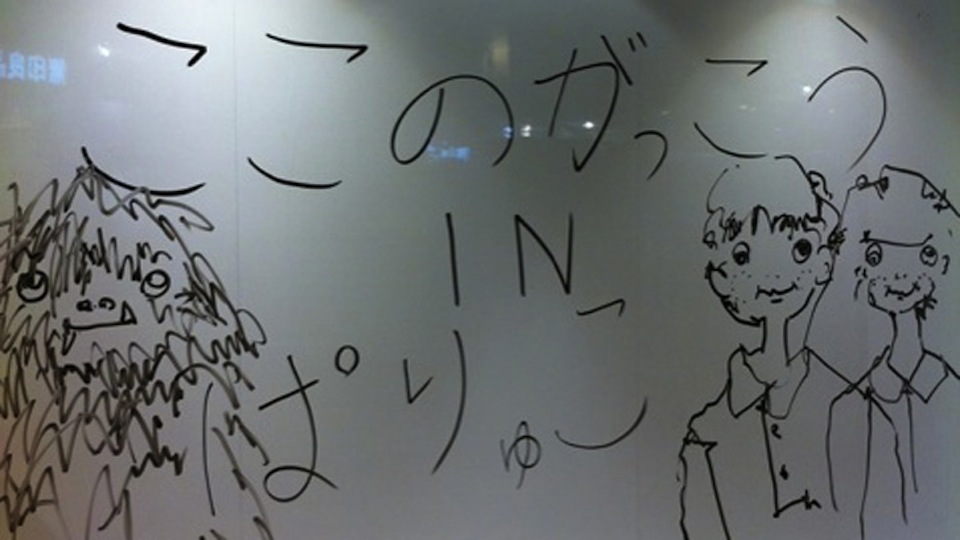 Shibuya is the popular place for young fashion in Tokyo.
Parco is a fashion store in the center of Shibuya and it has been a place to be visited for  fashion research and also simply for shopping. Recently, this store has been renovated and on 4th floor, where there is a new space called Pyaruko.
From Monday to Friday this space is used as a select shop for up and coming designers, and here you can find something special which you cannot find in other shops.On Sunday, this space becomes school, and I believe it is the smallest fashion school in Japan. This school's name is "Kokono Gakko",  it has 2 meanings: "the place for school" and also " the school for each one of us."
This school is hosted by the fashion brand Written Afterwards and its designer, Yoshikazu Yamagata, who has been teaching young talents in other fashion schools as a guest teacher but he made his own school to share his idea toward fashion. He believes the aim of fashion is the communication tool to give the meaning of education, society, and environment. He and his colleagues, friends, and designers give an idea about how to make a portfolio, and how to realize through design an idea.
Amazingly Kokono Gakko achieved remarkable results only after few years of its foundation. Last year the biggest number of finalist of ITS ( biggest fashion contest in Europe supported by Diesel, organized in Torieste Italy) selected participants from this smallest school. 3 Japanese students were selected, 1 from Royal College of Art and the other 2 students from Kokono Gakko. Previously the school had been held in Taito-ku Designers' village. However, with the new start of Pyaruko in Shibuya, Kokono Gakko seems to step into the next stage.
What is interesting is Pyaruko closes its shop function on weekend, the most salable moment for shops and opens the school. But as I see the visitors reaction, I understand its meaning. We "spied" the birth moment of fashion there and can imagine clearly, in a near future, we can buy these exciting "talents" in the shop. As Lidewij Edelkoort mentioned about new meaning of "Shopping" in her trend forecasting 2012-13 AW season, we see many department store's renovation and beginning anew.
What Parco did is to touch the real meaning about "dealing with fashion" and involve customers from the birth of fashion to shopping itself.
Kaori Ieyasu