ROMANTICISM
embrace melancholy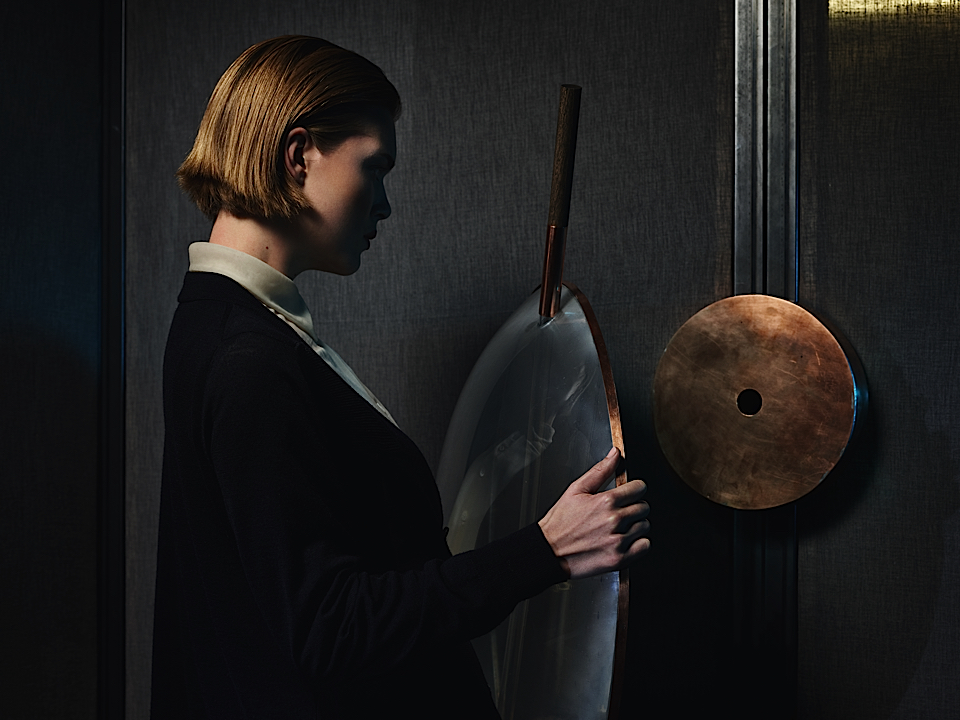 With a background in visual art and specialization in design and design research, Nel Verbeke is primarily a concept designer. Balancing between fine arts and design, her vocation will always be the emotional potential of shape and space. Fascinated by conceptual thinking, she shies away from the obvious focus. For Nel, it's important to start from a story, concept or definition before considering a shape or function. Imagination, visualization and research are her first priorities. The concept serves as an 'archway' over the whole.

Nowadays it's as if constant happiness is what we should all aspire. This leaves no room for other, more reflective or melancholy states of being. And yet, in times gone by, these feelings were accepted in our daily lives as natural emotions, inherent to who we are. Sought for its bittersweetness.

Based on her extensive research into past rituals of loss and sadness, Nel Verbeke explores how design can help us allow ourselves moments of melancholy. She created a reflective book and three objects that embrace these feelings in a different manner. Together, they invite us to experience a more human emotional balance.

Based on an extensive research into past rituals of loss and sadness, the process and material choices were prominently important and rooted. Precisely slow-craft and historical materials, that are able to show the beauty of melancholy, the archetypes of melancholy and even decay, were selectively chosen; wood, ashed wood, glass, silver, tin, copper and rough concrete.

The first object is the act/ritual of melancholy: a copper rasp that allows to ritualistic rasp material out of surfaces. In order to escape functionality and to be busy with the business of our own emotions. This also leaves its traces; the beauty of material loss as decoration.
The second object is a syntheses of the memorizing symbols of melancholy: a mirror and an hourglass in one. The glass of the mirror itself treated with tin for a historical pearl look that scatters the light. An hourglass with black sand. A hand painted silver mirror treated with an acidic that allows the new object to get into decay quicker.

The last object was more a quest for the place of melancholy: everything that has to to with mental or physical solitude. Nature in autumn but also the dominants shapes of architecture that can make you feel small and enclosed at the same time. Shapes and spaces with an emotional potential. This got translated into a wooded sculpture that dominantly represents itself into your house. Inviting you for a more quit and introvert moment. The shape itself is sculptured from one massive ash tree. Coated again with the ashes -charcoal powder- from the leftovers from the tree itself.

"A very precise example of how the theme of melancholy was embraced in daily life were all the memorizing symbols we surrounded ourselves with - in art but also directly into our interior - vanitas symbols that were always there to remind us of our own contemporarily, of the oth- ers that we have lost, of all the lacks and loses we already experienced. They reminded us of death, time, but by doing so they also reminded us of life. Keats often claimed that things are gorgeous because they die. The porcelain rose is not as pretty as the one that decays." From the 'Embrace Melancholy' Book


nelverbeke.com

Photography : Alexander Popelier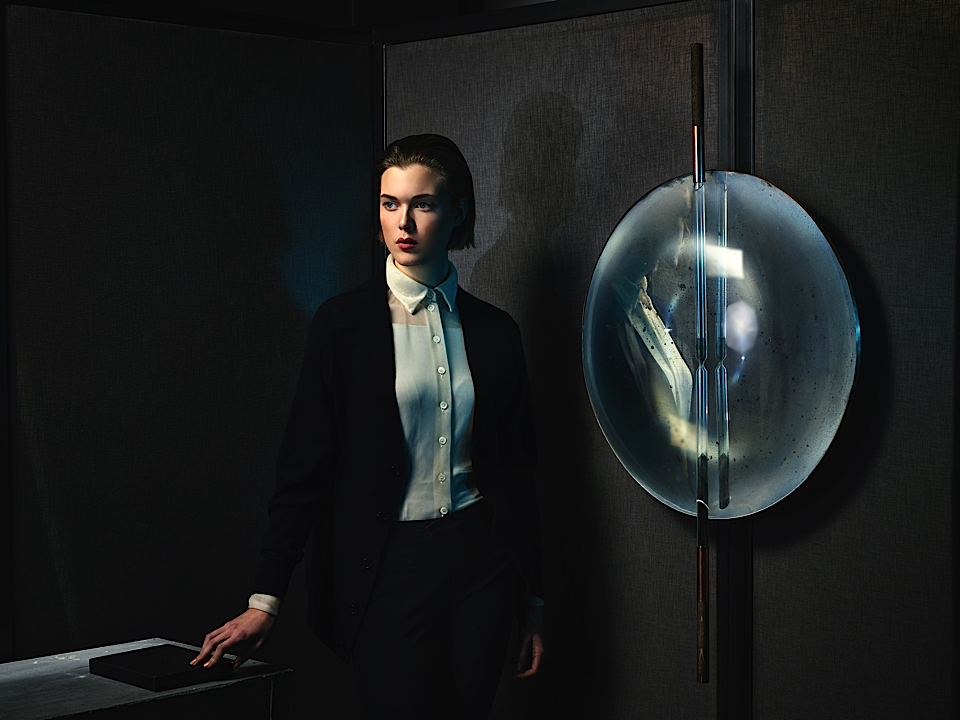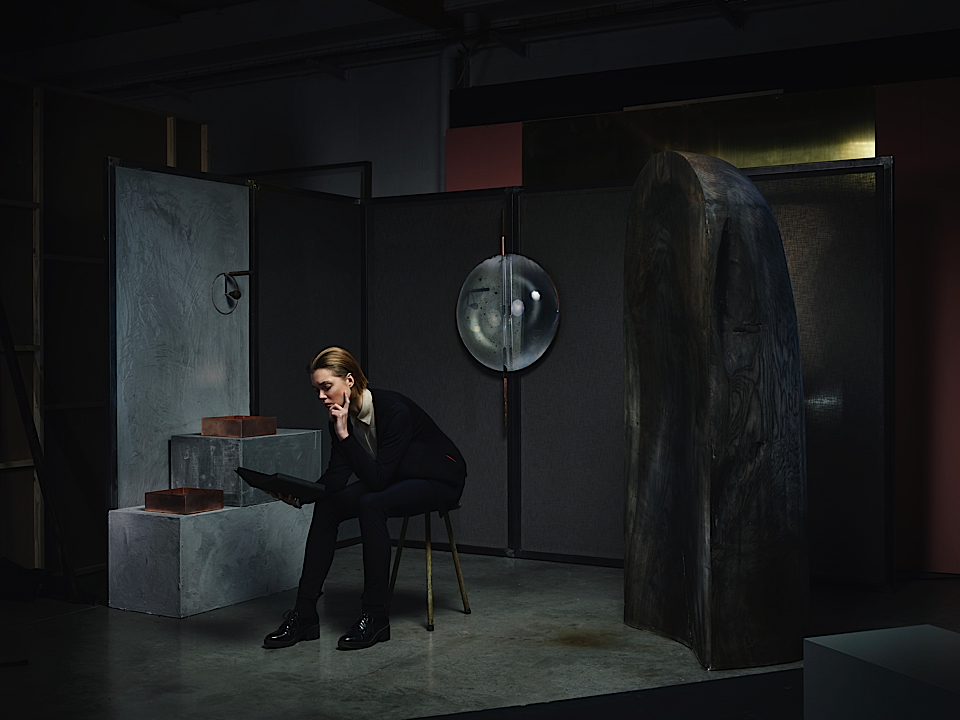 ROMANTICISM
rivers of times
Sophie Hérolt Petitpas is a french journalist free lance found of design and lifestyle. She is also passionate by astrology and its mythical and symbolic aspects. Curious and sensitive, she loved linking and describing her trend hunting with the eyes of mythology in her blog.
"From his tiny hut deep in the forest, the philosopher saw how cold things grew hot, the hot cool, the wet dry and the parched moist..." This quotation announced the atmosphere of the 2013 Odyssey, a jewellery collection from  Bjorg. A collection, where the alchemy of each forms and materials is transmuted in a subtle mixed of old times and a mysterious future.
The Norwegian films makers duo Matias and Mathias shot the 2013 lookbook. Reflecting on the eternal change and perpetual flux of nature, the 2013 Odyssey collection is a visual scenario of colors and materials merging and melting. Using the dark and precious aesthetic of the Dutch School painting, some scenes evokes some of their most important masters, as a Rembrandt portray, The Astronomer from Vermeer. Mythology inspired most of each stories, a mythology, which speaks about moon, night, melancholia and underworld. We think about Persephone before her rapt by Hades king of Underworld with the hand piece Hollow Moon, then Persephone tasting the pomegranate in the Hades Kingdom with the glasses Pure Gold and a futurist version for moon goddesses with the neck piece Rivers of times, ear-rings Lunar Shore or head piece called Full Moon. Inside these images inspiring by the spirit of a cabinet of curiosity, precious specimens and vibrant opals grow from dark metals, wooden shapes and textures meet luminous substances, liquids and psychedelic colors, all blending and transmuting into new forms and nuances. Encapsulating the playful and surrealistic signature expression, this year's Odyssey collection also transmutes the seemingly contradictory states of dream and reality.
Bjorg Nordli-Mathisen grew up in the north of Norway and began making jewellery after living in India in 2004. With a background from the arts, she has upheld a nomadic lifestyle, always drifting towards new corners of the world in search of inspiration. Bjørg releases two collections per year. The Classic collection has its foundation in silver, diamonds and precious stones whilst the Odyssey collection represents new directions through its foundation in bronze. All materials are 100 % natural and obtained in accordance to environmental preservation. There is a conceptual approach to all of her designs that encapsulates both previous and present collections as balancing acts between the fine and the raw. Whether the specific inspiration comes from surrealism, Charles Darwin experiments or ancient myths, there is always a link through an industrial approach to conveying nature in a piece of jewellery.
To conclude as a wink, to an iconic come back and a contemporary "mythic" artist, David Bowie who has done this year a great return after 10 years of musical silence, has selected few pieces from this collection for himself, Tilda Swinton, Iselin Steiro, Andrej Pejic and Saskia De Brauw, acting in the video of his new single "The Stars (Are Out Tonight)"directed by Floria Sigismondi.
Sophie Hérolt Petitpas
ROMANTICISM
life science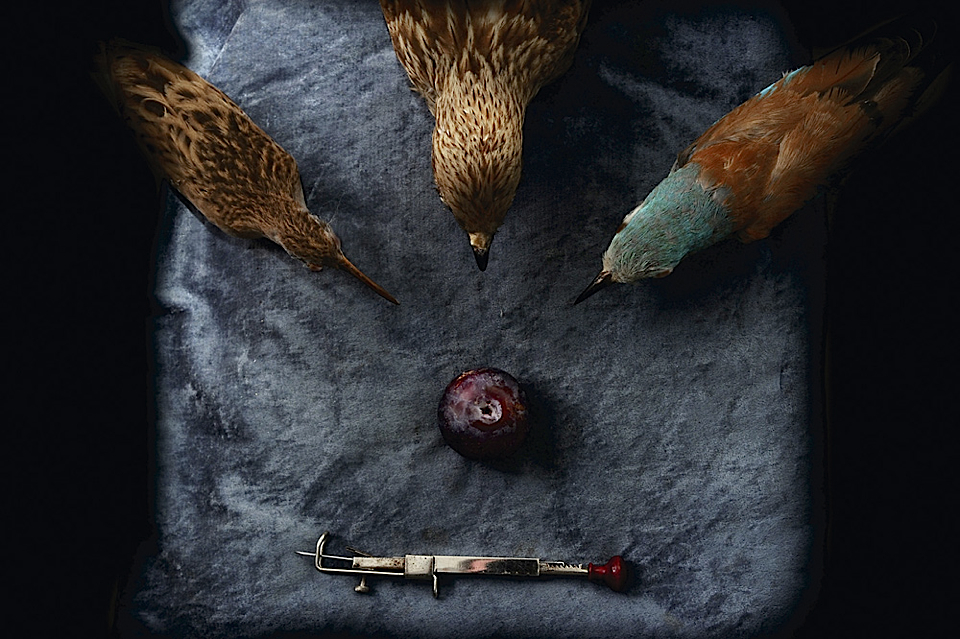 Eran Gilat is a Neuroscientist and an avid Art Photographer. His research focused on the study of the mechanisms underlying epilepsy, and the development of innovative cure for this illness.
His Fine Art  "Life Science" project was presented in solo and group exhibitions in leading galleries in Israel. He was invited for a solo exhibition under the auspices of the New York Photography Festival (2011) and then, numerous international invitations followed.
Gilat explain us why he did this amazing work of art: "In recent years I found myself directing most of my attention and energy to still life photography of biological specimens, highly inspired by my long lasting confrontation with biological tissues and natural fauna. It takes a while for a young clinician or a researcher to accommodate the laboratory or hospital scenes to enable good performance.
"Life Science" project is forcing the biological tissue into a relatively pleasant, sometimes artificial scenarios contemplating issues of materialism, erotica and mortality, corresponding with the complicated and intriguing category of "Animal reminder" in the visual arts.
As a biologist and researcher in the "Medical Sciences" I followed the animal world with frequent exposure to its behavior and inner tissues. The long term observations I suppose stands behind my use of visuals borrowed from this phenomenal world to contemplate bothering queries with my artwork. "
#  All specimens are derived from Natural History Collections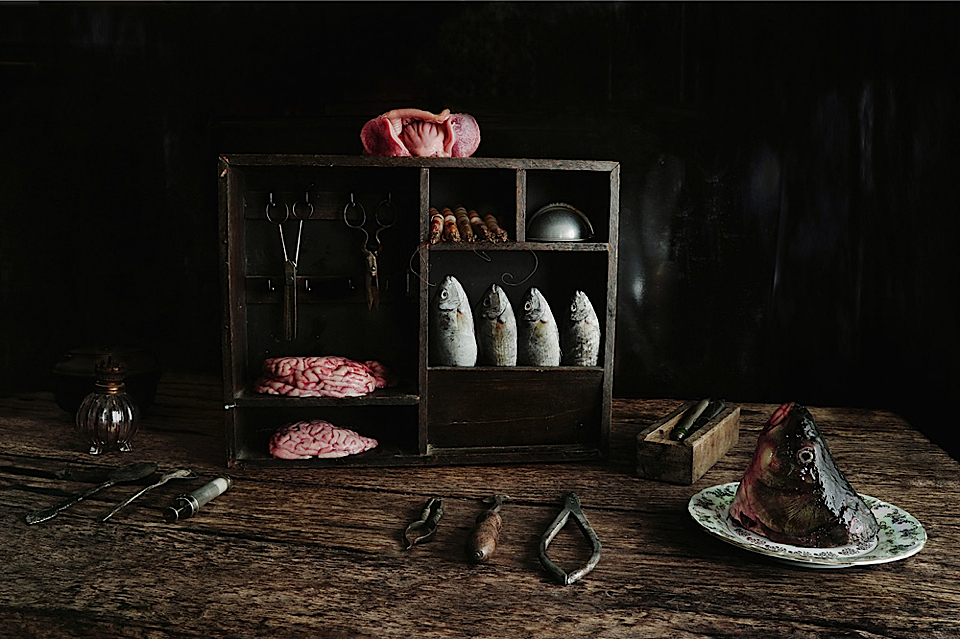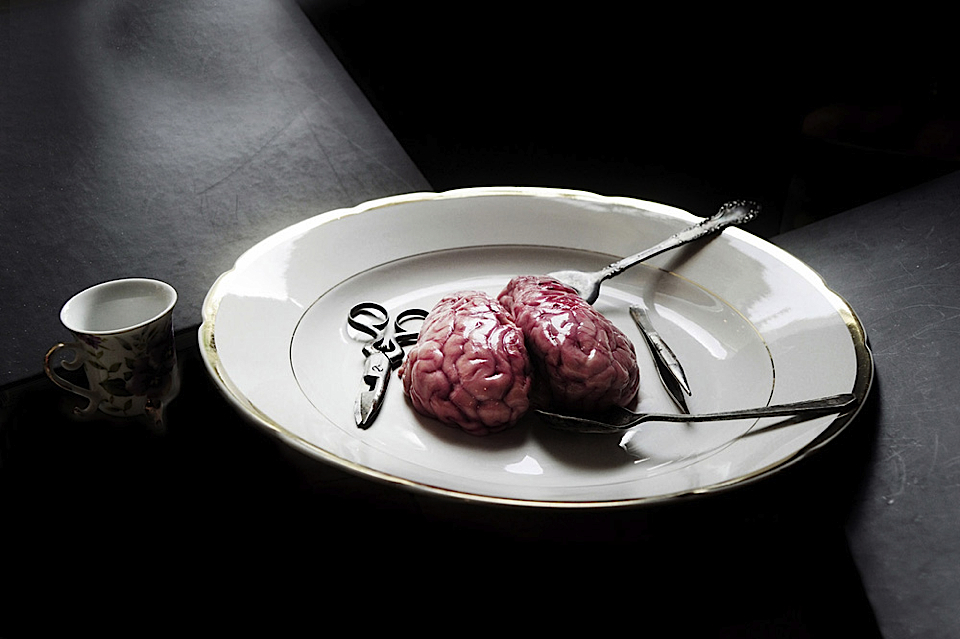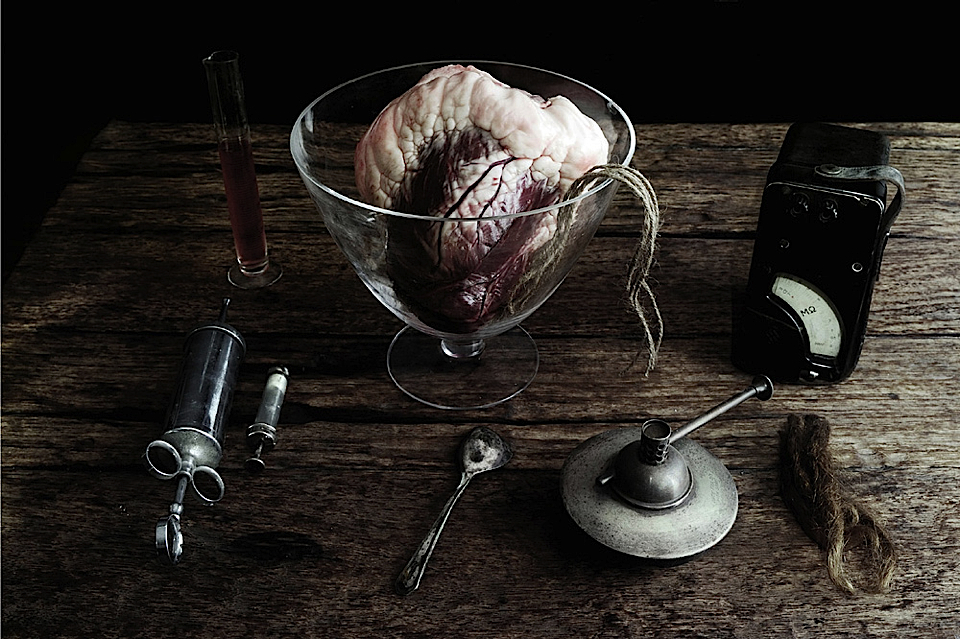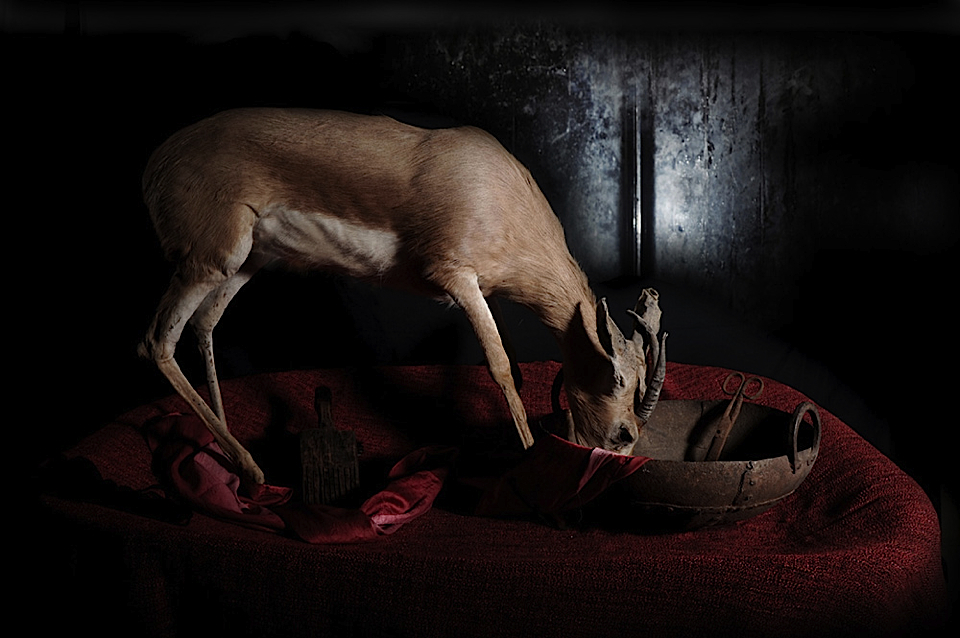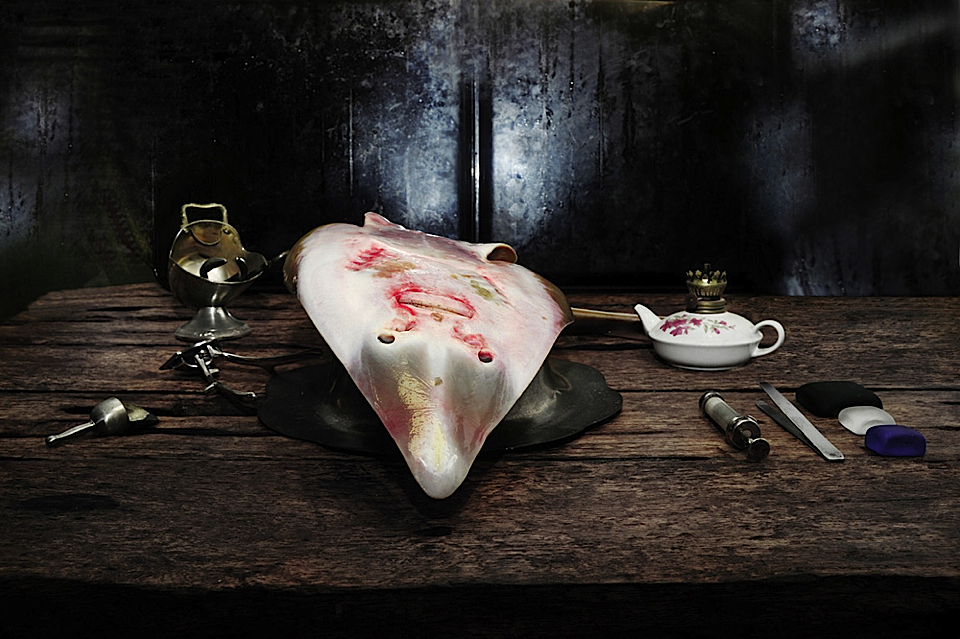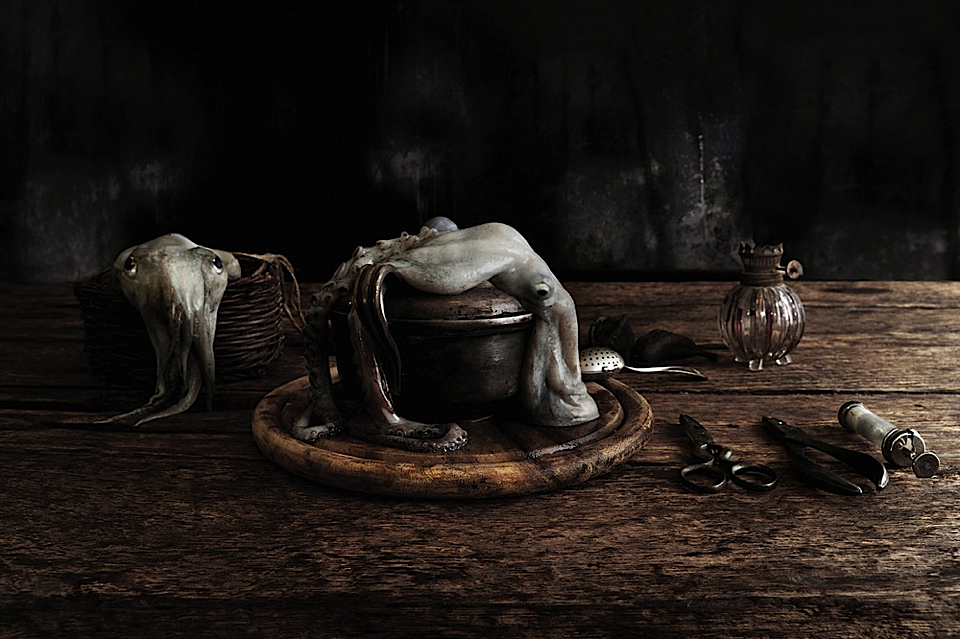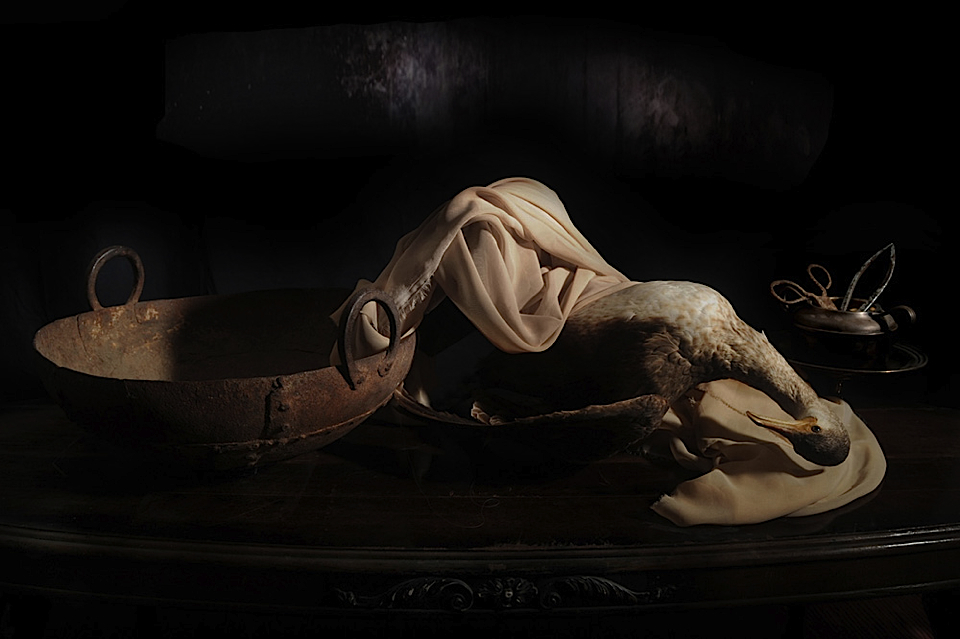 ROMANTICISM
or the way we feel
"romanticism is precisely situated neither in choice of subject nor exact truth, but in the way of feeling." charles baudelaire
the leitmotif for the years to come will be the dramatic and emotional way in which we will embrace the times we live in; with a new generation born in the troubled times of the turn of the century that will be growing up without hope for their future, without a scenario of growth and without a sense of wellbeing. in many cases, growing up without the possibility of finding a job and a livelihood, often growing up burdened by student loans. therefore the only way out will be to embrace the dramatic circumstances of the « age of doubt » by adopting and espousing the melancholic world view inherited from the romantics, creating an important second romantic period.
the term romanticism has been used in reference to artists, poets and musicians, as well as philosophers and scientists of the past, yet it can equally be used to refer to the different artistic, intellectual and social trends that will characterise our own future. some see romanticism as a form of resistance to rationalism, some as the start of modernism, others consider it to be integral to our day and age. and today it obviously is.
freedom from rules, worship of nature, fascination with the past and a devotion to beauty are certainly the focal points of the romantic movement, and can be seen once again building up in society, along with the belief that imagination is superior to reason and intuition superior to organisation.
romanticism was rooted in an artistic and intellectual sturm und drang movement that originated three centuries ago. it gained strength in reaction to the transformative forces of the industrial revolution and was nourished by the ideas of the french revolution. similarly today there is a severe backlash against the ruling forces of social control, the regulations of federal governments, the incessant indecent marketing of all our values, the selling out of our culture, the flattening of moral behaviour and the dehumanisation of society. fired by the recent protests against the greed of the banking systems and the economy's supremacy over democracy, this time around it is the internet revolution that will be creating the romantic protests and answers, producing a melancholic mood as the expression of the future.
an early romantic hero was the young and suffering werther*; young people emulated the budding artist with his excessively sensitive and passionate romantic temperament, who eventually committed suicide as the only possible way out. today suicides are on the rise again for reasons of unemployment, harassment at school and in the workplace, extreme forms of hyper stress and elaborate cocktails of substance abuse; leading performing artists to overdose and employees to jump out of the windows of their offices.
the romantic movement can best be characterised by a desire to explore and to entertain the ability of the arts to contain all ecstasies of the heart and to voice all torments of the soul. the thinkers of the enlightenment emphasized the primacy of reason, while romanticism emphasized intuition, imagination and feeling to a degree that has led ultimately to accusations of irrationalism.
in a similar way we again witness a mashed up artistic scene where all art and design disciplines congregate to become one single movement, one vision and one discipline addressing all the senses, hovering between dimensions. as such it can be seen as a reaction against reason, able to exalt the mysterious and the fantastical; in a search to escape reality and to enter the rapture of the dream, finding the sublime in the morbid, finding millions in a diamond encrusted skull. the vanity of fashion and design calling to us from beyond the grave.
the new romanticism is going to be a more radical kind of expression and will seek out the new, the curious and the unexpected. it will be characterized by restless research and impulsive pop-up actions. we shall be strongly attracted by the disproportionate and the excessive, and creativity will put more emphasis on remoteness and strangeness and the fundamental romantic feature, endlessness.
it will make spontaneity and the talent to improvise a desirable characteristic, as in the idea of the impromptu, the intuitively inspired.
the newer romantics will cherish freedom of expression, freedom of movement and migration, freedom of passion and gender and the endless pursuit of things like unhappiness, the unattainable and the undone. because the goal should never be achieved, the romantic spirit is haunted by a sense of longing.
a beautiful feeling of loss.
the historical movement developed the idea of absolute originality and artistic inspiration which creates from nothing, leading to the so-called romantic ideology of authorship, which gave birth to the notion of plagiarism and the guilt of imitation, while today's romantic movement sponsors ideas of partnership and co-ownership as well as cloning, copying and sampling from each other's work and genius.
the new romantic movement will endorse and validate strong emotion as an authentic source of the aesthetic experience, placing a new emphasis on such mental states as fear, horror and terror – when experienced while confronting the deadly strength and sublime beauty of untamed outraged nature. which explains the revival of vampire series and zombie movies and natural disaster scenarios that are frequently humbled by television and i-phone footage of real life experiences.
a fascination with the darker side of life is the result, voting for shadow over life; a way of coping with current affairs that are deepening the trauma of existence. hence the design of a colourcard composed of clair-obscur ranges with contrasting shadows and lights, omitting colour in favour of mysterious melancholic, hushed and heathered tones.
in an attempt to escape the claustrophobia of population growth, health threatening pollution and overconsumption, the avant-garde will flee the metropoles and seek solace in smaller creative cities and rural environments to experience the simpler and slower pace of life as lived on the farm.
believing in a new nature, a rural revival and a local economy.
romanticism will elevate folk art, ancient customs and authentic costumes as inspiration for our design and music, turning to central european ideas and germanic aesthetics. by incorporating elements that are born in native cultures, such as folk songs, regional food and legendary tales, we shall witness the increasing importance of regionalism and later nationalism, as a cultural and political force that might bring europe to the brink of conflict.
our new romanticism will reach beyond rational ideals, marketing goals, stock markets and liberal rhetoric to elevate our existence with elements of the arts and narratives inspired by the middle ages and its symbolic ideals of courtly love, troubadour lieder and wanderer trails. generating fashions with tunic dresses, stylised tabards and throw-on blanket coats. revisiting medieval patterns from the pre-raphaelite movement and stylistically inspired by the monk-like dress code designed by contemporary designers such as rick owens and haider ackermannn. a generous zeitgeist that layers clothes in a vertical play of unavoidable ideas and inescapable doom.
man becomes mostly soul while the body is losing its importance, and therefore fashions will become more covered and prude. romantic thoughts can be seen as an attempt to embrace the unfamiliar, harnessing the power of imagination in order to escape, in a form of lyrical and emotional melancholy which will become the major inspiration for new textiles with a fascination for the darker side of life. giving sense to doubt and a psychological desire to escape from the unpleasant realities of today's world by adding strangeness to beauty and weirdness to style. following our intuition and inspiration rather than living the standard life expected by today's managers who define our uptight society.
another way of escaping today's trauma is by seeking refuge in childhood, trying to capture the naïve and more creative life of our earlier years by hiding in children's dresses, finding a safe haven in children's expressions and playing children's games. this might explain the return of the fairytale and its moralising nature as an essential contemporary genre in art, animation and design.
the earlier movement valued the achievements of heroic individualist artists whose creative endeavours set pioneering examples that would elevate society, whereas today's romanticism idealises the family and the interactive group, as opposed to the individual imagination acting as a critical authority.
of all the emotions celebrated by the romantics, the most popular one was love. although the great romantic works are often centred on terror and rage, the motive behind these passions is most often a relationship between lovers, inspired by the medieval troubadours who celebrated courtly adultery and at times even believed that romantic passion was potentially a fatal disease. those were the same minstrels who celebrated romantic love as the natural birthright of every human being, the most exalted of human sentiments and the foundation of the bond of marriage.
today the need for love and the wish to marry and found a family is coming back. troubled by the crisis and in some cases, like in japan after the earthquake, people desire to marry again, because they say that they do not want to die alone…
romantic music attempted to increase emotional expression and to harness the power to describe the deeper truths of human feeling, creating new forms that were believed to be better suited to the new subject matter, frequently drawn from other art sources such as literature, history and nature itself. the creation and description of textiles to come, could be compared to the main characteristics of romantic music, with a grand freedom in form and design.
there will be a more intense expression of emotion in which fantasy, imagination and a quest for the unknown play an important part. the emphasis will be on the lyrical, with richer, often chromatic harmonies as well as the striking use of discords, with displaced and disordered elements in weaving and pattern making. dense, weightier textures with bold and dramatic contrasts explore a wider range of fibres and blends. rich variations of size and scale with minimal and repetitive patterns are alternated with the spectacular and the dramatic ones in order to obtain dynamic climaxes.
1-11-2011
celebrating the death
lidewij edelkoort