trend books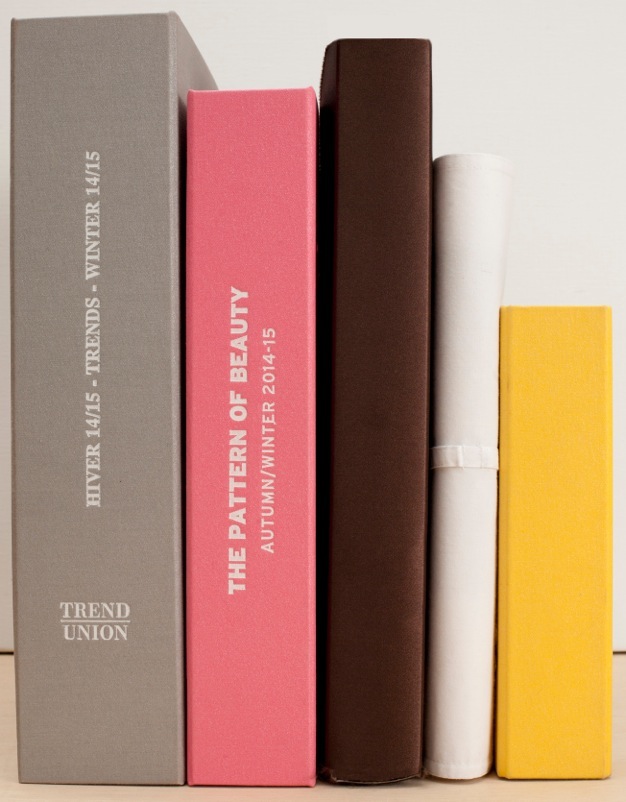 The trend books describe the trends in colours, fabrics, shapes and styles according to the most cutting-edge consumer attitudes identified by the Trend Union team. The forecasts are handmade, published in limited quantity and distributed worldwide.
PREVIEW Three months prior to the Colour and the General Trends Forecast, a presentation of the colours and fabrics for the new season is provided in a portfolio, including by theme, visuals, colour range, fabric samples, texts and key words. A very practical tool for industries which need early information such as spinners and yarn producers. It is published twice a year: in july for the spring/summer season and in december for the autumn/winter season.
GENERAL TRENDS FORECAST This book presents a global, however precise, view of the season to come from the evolutionary standpoint of society, the market, and the implications therein, in terms of colours, fabrics, and visuals. It is accompanied by texts and key words.
PATTERN BOOK This portfolio defines motifs and colours for coming seasons through visuals, colour ranges, and fabric samples.
THE KEY This book sets forth the key shapes, forms, and details for the clothing industry. It is composed of silhouettes and details, colour ranges, fabric samples, and key words.
THE COLOUR FORECAST The Colour Card is a large fabric edition of the season's colours, complete with a trend booklet of colour harmonies and scissors with which to cut and develop personal colour cards. All colours are dyed especially for and at the request of Trend Union. Additional swatches per colour can be ordered.
MEN'S COLOUR FORECAST This book is dedicated to the men's fashion industry presenting ambiances of the season and colour ranges.
LIFESTYLE FORECASTING BOOK A complete insight into the future of interiors. This book presents the newest trends in the field of interiors, design, furniture, and decoration.
ARCHITECTURE BOOK A vision on the future of architecture with inspirations in terms of space, construction, and materials.